September 13-15 2012 marked a very special and historic event for KenŽ collectors: The first inaugural gathering of KenŽ fanatics from around the globe!

After years of careful planning and implementation by our fabulous hosts, Dwane Adle, Jef Beck, and Lisa Koppelman-Elliott, KenŽ finally got his due with a convention of his own

KenŽvention: Space-Age Bachelor Pad, took place at the Sheraton Chicago O'Hare Airport Hotel in Rosemont,Illinois. The hotel was a perfect match for KenŽventioneers with spacious rooms that were perfect for room selling and room shopping, a nice restaurant, a convenient gift shop that included basic food and amenities, and an open area bar. The open atrium setting and glass elevators made it easy to spot friends down in the bar or restaurant, as well as see what floor they were room shopping on. A nearby Harry Carey's, McDonald's, and semi close Target made the location an excellent choice. Not to mention the kind and caring staff who patiently took care of our KenŽventioneers.




| | |
| --- | --- |
| On Thursday morning, room shopping promptly began at 10:00am, followed by registration from 11:30 until 5:00pm. During the day there were some wonderful workshops including how to sew your own skivvies and socks for KenŽ by Linda Leake-Beard and making your own KenŽ sized Space Age Juice Bar by Barbara Johnson. | |
ABOVE: Thursday workshop participants make a mini juice bar (RIGHT) and learn to sew (LEFT).
That afternoon was the annual He's A Doll Club meeting where Jef Beck dispensed important information to club members and it was decided that we needed to get the newsletter up and running again! It was a fun way to get to know fellow Club Members and rekindle old frienships.





ABOVE: LOTS of fun at the

"KenŽ's Kon Tiki Lounge" Welcome Event. RIGHT: Jef Beck welcomes conventioneers

.



That night the festivities officially began with a welcome reception themed, "KenŽ's Kon Tiki Lounge." The event included yummy appetizers and entertainment was provided by The Astronauts: Space Age Lounge Combo, led by Jon Kostal, who kept the dance floor buzzing with upbeat music from the era. In addition the evening included a silent auction with fabulous store displays from the 1960s that were generously donated by Lisa Koppelman-Elliot. At the event's close we received an amazing accessory set as a convention gift, which included a dresser, lamp, plant, and miniature KenŽ canvas.
Friday morning things began early with the dealers setting up the sales room and competition room drop off beginning at 8:00am. Some very cool workshops took place on reflocking KenŽ by Paula Bartolomei and Beth Clark, and Life Size- taking true to scale KenŽ photos by Stephanie Tatum. The Space Age Juice Bar workshop was also available today for any who missed it on Thursday.
BELOW: (Left) Friday Woprkshops included a flocking and (Right) life-size photography class.
| | |
| --- | --- |
| | |
The sales room was open in the afternoon for those looking for that special piece to add to their collection. KenŽ dolls from every era could be found along with the rest of the extended family. In addition wonderful handmade clothing and handmade accessories could be purchased. If you were looking for a specific KenŽ outfit, look no further. Clothes from all of KenŽ doll's looks were included. In addition if you were in need of some beautiful KenŽ furniture, Horsman was representing.


RIGHT: A portion of the Sales Room.


The Competition Room had some fabulous entries. Madison Plendl did an incredible job getting people to participate and had the room looking well organized and easy to view. The different categories allowed collectors of any era and at any level to be able to participate. There were display categories as well as creative categories including,Vintage/Mod Dolls and Outfits, Mix and Match, Single DollCreation, and Dioramas. Click here to see the

Competition Room Winner Results

.
The Raffle Room was open for business thanks to Beth Clarke and her team of volunteers. There were so many items, that it was difficult to decide where those raffle tickets were going to go! Thanks to so many generous donations there were a wide variety of items to choose from. By the afternoon raffle was over and many people walked away with fabulous items!
BELOW: Life-sized KenŽ visits the Raffle Room.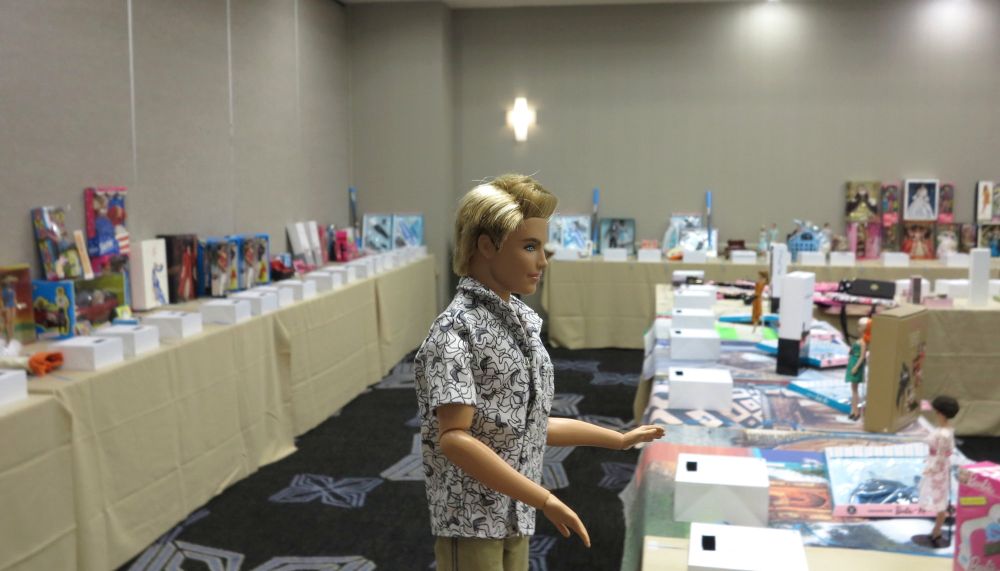 Friday evening's dinner event was a party at KenŽ's SpaceAge Bachelor Pad. Emceed by Jon Hill, the event was jampacked with activities. Jim Taylor introduced our very special guest, Mattel designer, Linda Kyaw! Linda gave an incredible presentation about the dolls she has designed including the first KenŽ of the World doll -Japanese KenŽ, the Pillow Talk gift set, and the Tim McGraw doll from the Tim McGraw and Faith Hill giftset. Linda showed us some pictures of KenŽ dolls that were meant to be but never materialized. There was an amazing Ralph Lauren doll with outfits that was the spitting image of the famous designer, as well as an equally cool Karl Lagerfeld doll. KenŽventioneers were treated to photos of the dolls to take as gifts. As a gift this evening we received a very cool fireplace for KenŽ'sBachelor Pad.





RIGHT: Photo-op in KenŽ's Space-Age Bachelor Pad. BELOW: Mattel designer Linda Kyaw.




Friday evening ended with a bang as the PLAYDOLL Lounge opened with a special performance by The Belles. DJ Bill was on hand for dancing and Karaoke afterwards.
BELOW: The Belles perform in the PLAYDOLL Lounge.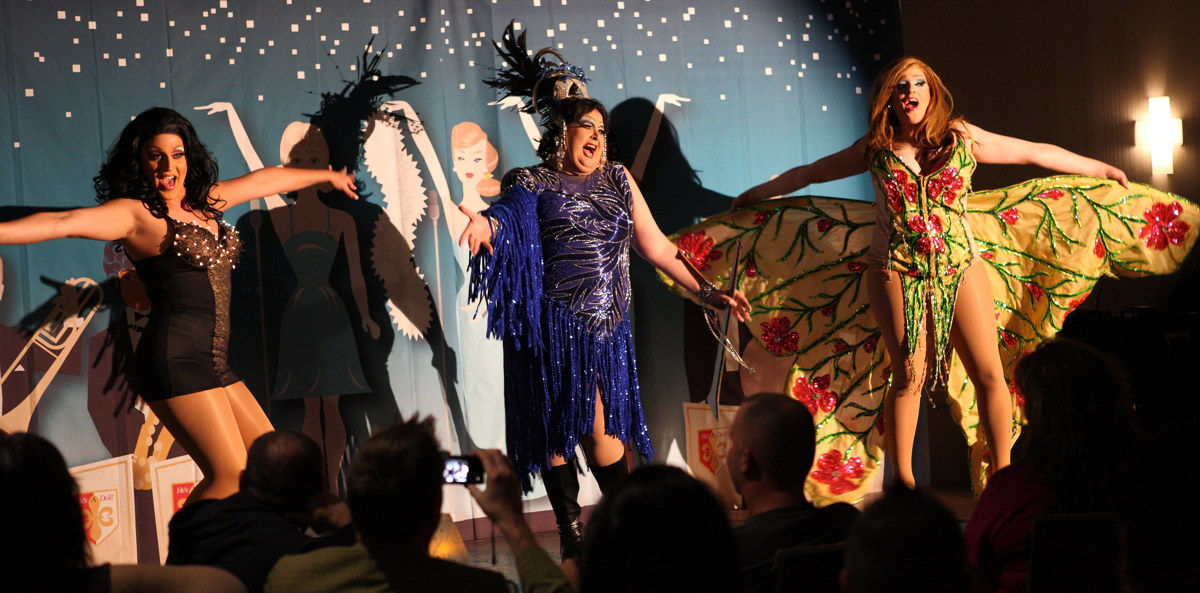 Saturday morning the sales opened bright and early to conventioneers and an hour later to the public. It was the last chance to pick up that item you had your eye on the day before, hoping it had not been swiped by someone else. The Skivvies Workshop and the Photography Workshop were both offered once again to anyone who may have missed out. Just before dinner Linda Kyaw signed dolls in the Foyer.
The evening produced a bit of sadness, as we knew our treasured time in Chicago with our KenŽ friends was coming to an end. Madison introduced all he participants from the Competition Room and acknowledged them on stage. Once again Jon Hill took the mic as Emcee. The evening was full of fun and included a fabulous live auction of OOAKs from a variety of artists. The auction benefitted a wonderful charity called Project Mobility. This charity provides adapted bicycles and recreational events for people with disabilities. The organization was introduced with love by Linda Leake-Beard. Linda shared with us a touching,

personal story and a video that showcased the organization's work. The presentation displayed what a truly wonderful and inspiring charity this is and how it has been able to help so many individuals and their families.

Follow this link to see all the fabulous Live Auction Dolls



LEFT: Linda-Leake Beard introduces the Live Auction

charity called Project Mobility.



We were treated to a sneak preview of the second annual KenŽvention. Next year, KenŽvention will be in Milwaukee, Wisconsin in October. The theme sounds fantastic as the Carson Boys. KenŽ and Tommy™ solve a mystery!
The event everyone was most anticipating- the unveiling of the Convention Doll was saved until the very end. The table hosts were instructed to reach under the table and take out the dolls and pass them out to KenŽventioneers. We waited until everyone in the room had their doll in their hand before we removed the tissue paper to reveal the gorgeous KenŽ created by Angie Gill. Dressed in an early 1960's Mad Men Style Suit, this doll is a show stopper. The box graphics coordinated with the other souvenirs we had already received.

As with all good things, this fabulous weekend of fun, friends, and KenŽ collecting had to come to an end. What an incredible time we had! Hope we can all do it again next year in Milwaukee!

RIGHT

: Blonde version of the 2012 KenŽvention Souvenir doll.