As far as I can remember I got my first Barbie®, a black-haired #5 ponytail, for Christmas when I was 7. From that day on I loved to sew for Barbie® and her friends. Although my mom pretty much hated to sew, she patiently taught me mostly through embroidery on cotton dishtowels. She had also painstakingly created my first doll's entire wardrobe herself. Soon I was creating my own fashions for Barbie® mostly out of Kleenex that first year, but then I eagerly snagged up any fabric scraps that anyone had to offer. By junior high days I was sewing Barbie® clothes for my mom's bridge friends' kids to earn Christmas money for myself. At first I did it all by hand, but it wasn't long until my mom pretty much turned her sewing machine over to me.
About the time Tutti and Todd came out, and oh, did I want those so badly, my mom told me I was way past the point of being too old for dolls for Christmas anymore, which was quite traumatizing…I must have been about 11 or 12 I think. So from then on I had to keep my sewing for Barbie® a little more hidden.
My original dolls, Barbie®, Ken®, Midge, Alan, Skipper, Skooter, and Ricky all traveled to college with me in the bottom of my orange metal trunk…..I knew they'd be donated to a garage sale if they stayed home without me! My roommate traveled to see her boyfriend on weekends and then the Barbie® gang would get to come out, and I never lost that love and appreciation of the fabrics, the quality of those tiny garments.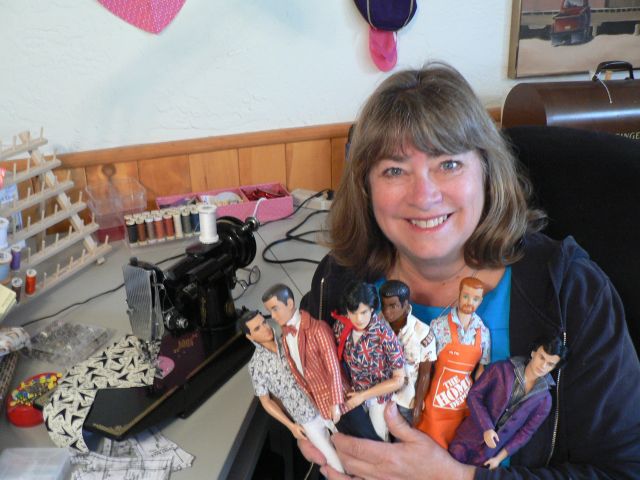 Fast forward to the year 2,000, when my husband and I were building our home – we'd been married 20 years and this was our first home to own …..and I was told that I'd be able to have my dream sewing/Barbie® room. The early designers were talking a fairly large closet structure where I could close the door and things would neatly fold into that…..well that was not what I had in mind at all….knowing the now larger quantity of dolls and fabric packed into any space I could master. The original footprint had a room approx 12 or 14 feet square, which I thought might be ok……but when I saw the outline in full scale I knew that wasn't going to suffice either. It actually ended up about 12' by 24' – the size of our old living room…..I knew that would for sure accommodate what I had at that point. I also had designed into the room two huge closets that ran the length of the room, where I could put bolts of fabric and boxed dolls. Imagine my husband's surprise when we moved in and I filled the room right away with all that had been hidden in our old house. That's when he found out I had a "collection".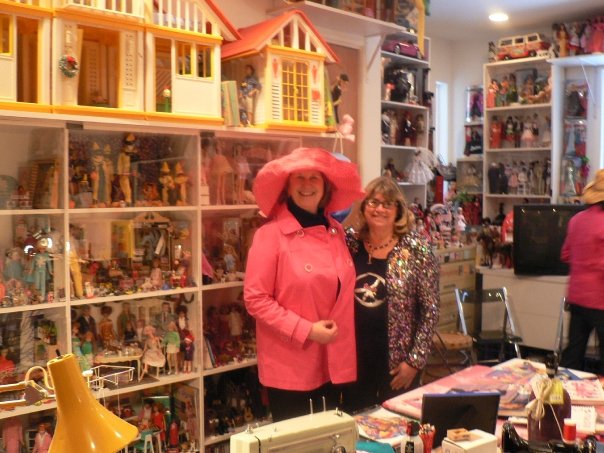 Since the kids were getting too old to want my hand-sewn garments anymore, and the internet was coming into play a friend encouraged me to sew for Barbie

®

and Gene and sell on eBay.

I was fascinated by Japanese kimonos and loved the ornate, gilded quilting fabrics that were popping up in fabric stores.

They sold better than I could have imagined and went for more than I could believe on auction.

I was doing them in quantities of 10 or 12, using rotary cutters, photographing one of them and selling the rest from the original photo.

That went great for a year or so, until a few others caught the kimono bug, only theirs were made in Asia someplace and sold for a fraction of what mine did.

All of a sudden mine didn't sell anymore….and I had to take another look at what was happening.

About that time I was able to go to my first Barbie

®

convention in Albuquerque, New Mexico.

I scraped the convention fee and airline tickets funds together and took probably 25 or so repro Senior prom dresses in various rainbow colors with me to hopefully sell there.

I was, of course, blown away by what I then experienced at that first convention.

I roomed very close to James Bogue, who does beautiful vintage inspired garments and I couldn't believe the workmanship in his outfits.

I did sell some of my dresses, but not nearly enough to begin to cover my hotel bill, or what I wanted to buy in the sales room.

I did, however, also bring several competition entries that I had sewn that I did really well with, and I did sell one of those for way more than I could imagine.

So, I was hooked, and so inspired to dive in with everything I had.

It seemed that doing vintage-themed things were most in demand, and I started collecting the older patterns that I found on the salesroom floor and later on eBay.

I also used original vintage items that were beyond repair for patterns for what I wanted to make.




I try hard not to copy what others do, to stay original, and try to have new things each year. I've always been so intrigued by Ken®'s tiny sport coats, shirts, pants and ties, but intimidated by the time involved in getting the fit and look right. I've also always thought there was so much room to expand his wardrobe…..so when he turned 50 a couple years ago I knew it was time to again dive in…..I've always loved Ken® dolls and wanted them to be much more than just Barbie®'s accessory! For the last few years I've concentrated on finding the right scale fabrics, the tiny buttons, and all that to complete his wardrobes. One of my first ideas for Ken® was to do the wolf body, which Mattel didn't do to complete his look. One year I did satin Matador ensembles with brocaded sections on the pants and jackets. The last couple years I've concentrated on shirts, jackets, pants etc. that are either color variations or compliment Barbie®'s outfits. I try very hard to make my items affordable and yet follow the traits of the early Mattel garments. I study the vintage hems, seams, snaps and buttons and try to keep that flavor in mine. I'm not sure any seamstress is ever compensated for the time involved in doing these intricate tiny pieces, so the fact that I absolutely love what I do makes it all worthwhile for me….that and knowing others are having an appreciation for what I make.
I make a point to frequent any fabric store that I can, as many times the fabrics inspire what I create. I also do a fair amount of internet buying, and am always on the hunt for tiny scale fabrics, notions, trims, buckles, buttons etc. A dream-come-true happened at the Barbie® convention in 2012 when I was able to tour the L.A. fabric district. I also travel to Phoenix a lot during the winter months and the selections there offer some wonderful alternatives to our Montana quilt shops. My two favorite hobbies are sewing and Barbie® and I love to be able to combine them.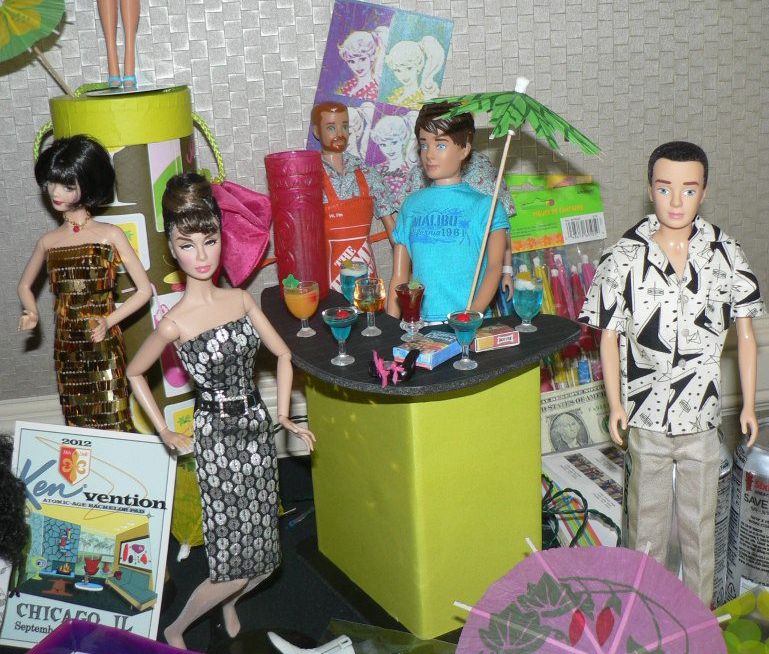 KEN® and associated trademarks and trade dress are owned by and used under license from Mattel, Inc. ® and ™ designate U.S. trademarks of Mattel, Inc. ©2012 Mattel, Inc.
All Rights Reserved. This convention is not sponsored by, or affiliated with Mattel, Inc.