While I never had Jewel Secrets Ken® growing up, he is by far my favorite Ken®. With his chiseled good looks, dark hair and piercing brown eyes, he's a Ken® any Barbie® would be head over heels for. However though I loved his head sculpt (which he shares with Barbie and the Rockers Ken), I detested his silver tuxedo. He's a favorite doll of mine to redress.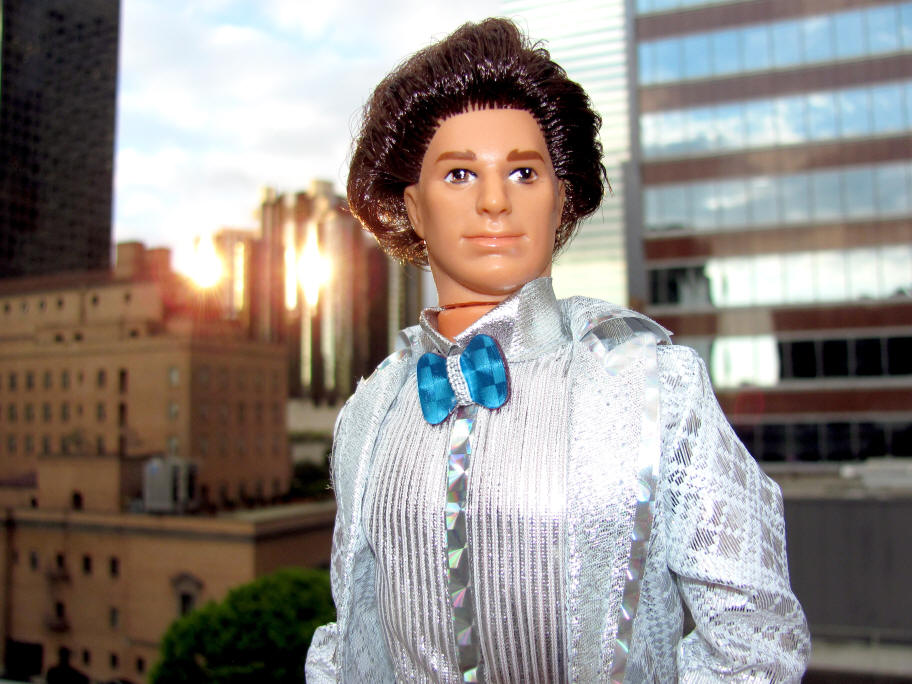 Above: Jewel Secrets Ken® has a "handsome rugged face".




ABOVE

:

All that hair needs a BIG brush

.

If Secret Hearts Ken is the Tom Cruise Ken®, then I deem Jewel Secrets Ken® the Tom Hanks Ken® with his curly brown hair. Released in 1987, Ken® arrives complete with a triple change outfit (included lenticular bowties and cummerbunds complete the quick changes that even Superman would envy). Not only that, but Ken® includes a comic book depicting his birthday adventure.

BELOW: Jewel Secrets Ken® comic book. CLICK on the comic to see what's inside!!
Apparently Ken®'s "jewel Secret"
is that he only has on tux.
Luckily he can keep that secret
with his adjustable accessories;
he can go pink…

Or blue…

Or mix it up!
Why I love this doll isn't for his flashy suit, detailed storyline or even his quick change outfit, but for his head sculpt. The closed mouth, the dark eyes and the dark hair make him a favorite of mine. He looks masculine. Regardless of how much glitter, shine and sparkle is in his outfit, you know Ken® is a take charge kind of guy, using his own ingenuity to find a way look different for each occasion. I was never a fan of Ken® looking very young. There was no Ken® attending high school in my world. No, he was a grown up, out there, being a man- going to work, hanging out with friends, driving cars.




LEFT: Ken® comes with a Jewel Secret surprise for Barbie®.
Speaking of cars, Jewel Secrets Ken® is also seen in the 1987 Barbie Ferrari ad, wearing Rockers Ken® carded outfit, and looks fantastic in it. He was also the male doll chosen to showcase the following fashions:
I really do love his head sculpt so much- he looks quite rugged, manly and sure of himself, kind of like the Brawny guy, but without the beard. For once, Ken® truly is a manly role model.
For more information on Jewel Secrets Ken®, check out this LINK.
KEN® and associated trademarks and trade dress are owned by and used under license from Mattel, Inc. ® and ™ designate U.S. trademarks of Mattel, Inc. ©2012 Mattel, Inc.
All Rights Reserved. This convention is not sponsored by, or affiliated with Mattel, Inc.